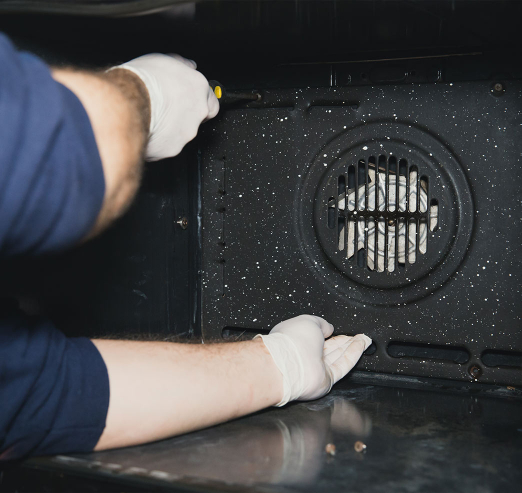 Our oven cleaning service in Auckland in more detail
The oven cleaning technician arrives - On the day of your service, a locally based cleaning expert will be sent to your address. They will arrive bringing all their professional detergents and tools. A protective mat will be placed on the floor and the surrounding areas to keep them safe from splashes. The cleaner will also run a quick test by turning on your oven to make sure everything is working properly.
Cleaning the removable oven elements - Then, the oven cleaning technician will disassemble all oven detachable parts and accessories, such as trays, racks, and light bulbs. If the oven model allows for the door to be detached, the cleaner will do so. For optimal results, each component will be cleaned separately with powerful degreasing solutions that can break down grime and grease build-up.
Oven chamber scrubbing - The cleaner will then move on to the internal part of the oven. The surfaces will be pre-sprayed with a degreaser to dissolve burnt-on food particles and grease. After that, the cleaning expert will carefully scrape all the softened-up food residue, making sure not to damage the material. If the grill element can be removed, the cleaner will detach it, but even if that's not possible, they will still try to clean behind it. Then, the specialist will wipe and polish your oven on the inside.
Polishing and assembling - Finally, when the internal part of your appliance has been scrubbed clean, all disassembled elements will be put back together. Then, the cleaner will also thoroughly wipe and polish the exterior surfaces of the oven, including the knobs and cooktop. After the cleaning, final testing of the oven will be conducted to ensure that the cooking appliance is working as it should.