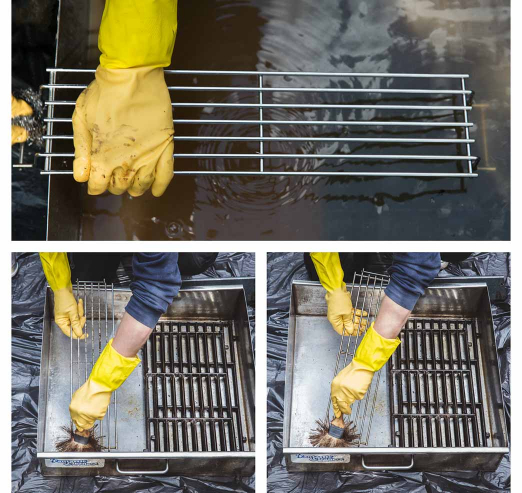 How the BBC cleaners perform the service
The skilled and experienced grill cleaners will arrive fully equipped with scrapers, wire brushes and cloths to complete the job at hand. They will first cover the surface under your grill with a protective mat to avoid making any mess, be it on your decking or patio.
Then, they'll get on with the service by completing the following steps:
The barbecue cleaner will clean the individual parts of your appliance, first. The grates, warming racks and grills will be carefully cleaned with a wire brush.
Special attention will be given to the burners, as well.
The professional will also clean and polish the drip tray and the bottom tray.
The roast hood will be scrubbed, too, and if your grill comes with a cabinet, it will be thoroughly wiped inside and out, as well.
Then, the expert will spray a degreaser inside of your BBQ grill to soften burnt-on grease and food bits. Those will be carefully scraped off before the BBQ chamber surfaces get washed and dried out with a clean cloth.
In the end, the cleaner will apply protective oil, designed to keep rust at bay. Your appliance will get a final polish and all the removed parts will be placed back.
And if you want to enjoy your professionally cleaned BBQ grill staying grime-free for longer, try to maintain it in top condition on a regular basis. This means giving it a quick wipe after every use. Remove fallen food pieces, as well. To prevent rust build-up, apply protective oil. Also, keep the appliance closed when not in use, as insects and rodents can take fancy to it at night.